| | | |
Vendor Partners

Founded in 1971, SMC Networks is a global leading designer, developer and manufacturer of networking products for home, Small-and-Medium Businesses (SMBs), and Enterprise environments. With worldwide headquarters in United States, SMC has established its global presence serving the world's marketplace throughout America, Europe, Africa, Asia and Australia. SMC became a wholly owned subsidiary of Accton Technology Corporation in 1997. By combining SMC's core strength in engineering and marketing with Accton's expertise in optimizing silicon designs and streamlining manufacturing processes, SMC is leading the network-centric technology environment and continues to deliver the cutting-edge and high quality products to the networking markets.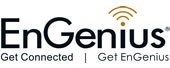 Founded in 1993, EnGenius Networks (affiliate with Senao International Co. Ltd) is the world's leading Wireless Solutions providers for SMBs (Small-and-Medium Businesses) and Enterprise environments. EnGenius is truly global as the company serves the world's marketplace throughout Europe, Asia Pacific, South Africa, Africa, and Australia. For over 16 years, EnGenius has been cultivating and developing strategic business networks and strong distribution channel that enables its business partners to gain a competitive advantage and explore new business opportunities. With well-established own warehouse and technical lab, EnGenius provides customers with instant supports and end-to-end network solutions.
Established in 2004, Edge-Core is a wholly-owned subsidiary of Accton Technology Corporation. Edge-Core was primarily derived from SMC as a new product line specialized in developing Metro Access Switches for Enterprise environments. Powered by Accton, Edge-Core dedicates to provide reliable, high-performance, enterprise graded switches for today's fast paced mission-critical applications. Leading product portfolio includes Metro Access Switches, Chassis and Layer 2/3/4 Managed Switches with superior features that enable enterprises, service providers and system integrators to gain a competitive edge.

4ipnet, Inc. is a worldwide leading provider of networking equipments for reliable, secure and manageable wireless access. In an effort to meet the changing market demands at the least possible cost, 4ipnet delivers full range of high-performance products and mission-critical applications to bring reliability and manageability to increasingly complex wireless networks. 4ipnet's complete WLAN infrastructure solution portfolio addresses the needs of different network operation environments ranging from Enterprises, ISPs, SMBs to Home Office.

ZyXEL offers a range of IP DSLAMs and Network Attached Storage appliances for a complete range of customers. ZyXEL IP DSLAMs offer advantages over traditional technologies such as increased efficiency, faster speeds, and improved management while their Network Storage (NAS) appliances are tailored to the need of small business and low end IP CCTV installations.

Founded in 1989, PheeNet is a leading provider of networking solutions, specializing in Wireless Backhaul Solution for SMB, Enterprise, ISP/WISP and Telecom industry. PheeNet offers a range of feature rich, highly integrated Wireless Backhaul Solution including Licensed Band Ethernet Radio, NLOS Ethernet Radio, Long Range & High Capacity TDMA or FDD, STM-1, PDH, IEEE802.11abgn. PheeNet has been accredited with ISO9001: 2000 certification for seven consecutive years and will continue to strive to provide the best networking solutions and service.
Micronet is a worldwide provider, developing and manufacturing advanced networking solutions for Enterprise, SME, ISP, and SOHO. Since 1992, Micronet has delivered over tens of millions of connections worldwide. Micronet specializes in providing network infrastructure products such as Ethernet of copper and fiber, Wireless LAN, ADSL, VDSL, and System Management product lines.
Copyright © ENDY AUSTRALIA, 2017. All Rights Reserved. Use of the information contained on this page is governed by Australian law and is subject to the disclaimers which can be read on the
Term of Use
. View the ENDY AUSTRALIA
Privacy Policy
.